My name is Kelly Trainer. I have been face painting since 2002, after learning the craft during a 5 year stint back in college as a professional magician's assistant. I am mostly self-taught with years of practice and the guidance of a couple good friends who are career face painters. I strive to bring an extra spark of fun and creativity to every event I attend and face painting is always a huge hit! Having worked hundreds of events, I am a seasoned professional with a wealth of experience connecting with guests of all ages.
My husband Patrick and I have three beautiful children, Juliana, Jake & Olivia. Since I have a full time career during the week and spend the rest of my free time being Mommy to these sweet babies, my available time for parties and events is limited mostly to weekends. Please contact me with plenty of advance notice if you are interested in booking my services for an event and I'll do my best to accommodate your needs. I'm looking forward to working with you to make your event extra special!"
Add an extra special touch to your next event
Whether a birthday party, holiday celebration, corporate event, fundraiser or festival, face painting is the perfect touch to make your next event memorable for children and adults alike! I look forward to hearing from you about your event, and promise you this; your event will get my best work, my best customer service, and my best price.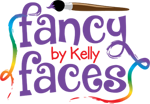 Kelly Trainer
510.508.7036
Note:
All paints, glitters, adhesives, brushes and other materials used for face painting are professional grade, specific for face painting/body art, are hypo-allergenic/non-toxic, and easily wash off with warm water and soap. Paints are water and/or glycerin based for a very smooth and comfortable application. Additional sanitizing and cleaning protocols are in place as well.


Festivals Where You'll Find Kelly
Ardenwood Harvest Festival
Ardenwood Historic Farm July 4th Celebration
Clayton Art & Wine Festival
Dublin St. Patricks Day Festival
Dublin Eggstravaganza
Fremont Festival of the Arts
Lafayette Art & Wine Festival
Livermore Downtown Street Festival
San Ramon Art & Wind Festival
Sunnyvale Art & Wine Festival